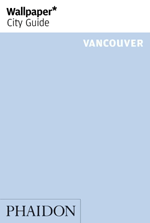 Wallpaper City Guide to Vancouver (2014)
(Phaidon, 2014)

The third edition in this prestigious international series aimed at the design savvy traveller celebrates Vancouver and its best architecture, restaurants, hotels and attractions with style and wit.

From Arthur Erickson to Omer Arbel, from Stanley Park to the Shangri-La and from Burdock&Co's veggie gourmand to the Urban Winery's locavore tasting menus, this guide pays homage to the best and the brightest in the Vancouver firmament.





PURCHASE an autographed copy of the Wallpaper City Guide to Vancouver (2014) direct from the author Hadani Ditmars.

Prices includes tax, shipping and handling.

$20.00 CDN (Canada)
$22.00 CDN (USA)
$25.00 CDN (International)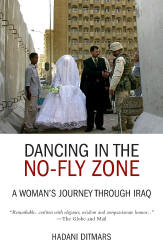 Dancing in the No-Fly Zone: A Woman's Journey Through Iraq
(Raincoast Books, 2005, Interlink Books, US, Arris Publishing, UK, 2006)
Globe and Mail Top 100 Books, 2005
The Critics:
Praise for Dancing in the No-Fly Zone
"It...touches places in the nation's soul that horror headlines never reach."
- Boyd Tonkin, literary critic of the London Independent Review
"In the midst of a flurry of publications on Iraq by journalists, politicians, diplomats, and academics, Hadani Ditmars' work undoubtedly stands out. Her book is not only engaging, interesting, original, and perceptive, but she has clearly done her homework. The book is full of information that provides the reader with a historical context and insight into the human cost of sanctions and war. Yet it is not just a book about misery. Dancing in the No-Fly Zone is about people pursuing art, culture, music, and entertainment despite economic deterioration, repression, and later on, war and occupation." - Nadje Al-Ali, Anglo-Iraqi academic
"Of the plethora of books out there on Iraq, Dancing in the No-Fly Zone has a sense of reality and immediacy difficult to match...Ditmars adds layers to the nameless, countless individuals we see for nanoseconds, flashing across our screens, as another atrocity is announced. The cultural richness, stoicism and adaptability of Iraqis clenches at the heart muscles... This text is a reference on human courage and normalcy in the face of utter chaos." - Miriam Cook, UK's Open Democracy

PURCHASE rare Canadian first and second editions directly from the author Hadani Ditmars,
autographed and/or with a personal message by request.

Prices includes tax, shipping and handling.

$50.00 CDN (Canada)
$55.00 CDN (USA)
$60.00 CDN (International)



Photography by Hadani Ditmars from Dancing in the No-Fly Zone

Photographs are not to be used without permission.